Fall is one of the best seasons when it comes to dressing up and experimenting with men's upper wear fashion. The temperature is perfect for trying out fall leather jackets and other amazing winter wear without having to overstuff yourself with warm clothes. This is especially true in areas where it snows a lot because going out in just your hand-crafted leather jacket will be chilly, and wearing something warm under it will ruin the perfect fit. It is almost as if this season was made specifically for men to enjoy their coats, tops, blazers, and of course, fall jackets. 
What To Expect In This Article?
What Makes Fall the Perfect Season for Rocking a Jacket?
If you were to ask people what their favorite weather is, the most likely answer would be either summer or spring. This makes sense, especially in areas where winter is very extreme. But if you were to ask any fan of jackets, coats, and men's winter wear, their first pick would be the dry season of fall, and there is a perfectly good reason for that.
Summer's heat doesn't leave much room for interesting clothing. What can a person wear on a hot summer day other than shorts and a sweatshirt? Frankly, not much. Winter, on the other hand, has, naturally, the complete opposite issue. When it gets too cold, you can't just wear your favorite jacket over a t-shirt and call it a day. We do offer some of the best men's winter jackets, but for regular fall jackets, you either have to wear something under them and ruin the fit. Or, you have to wear something over them, completely defeating the point of having a fancy leather jacket in the first place.
Fall (no pun intended) falls in the sweet spot when it comes to men's upper wear. The weather is cold enough to wear any leather jackets and feel their warmth and comfort in the chilly wind, without being too cold for a jacket to handle. In addition to the temperature, the overall atmosphere is very aesthetic and perfectly fits the browns and black of these fall jackets for men.
Best Fall Leather Jackets We Offer
There are many designs and styles of jackets and coats that look best in the fall season. Here are some of our most popular ones:
Furcliff Black Leather Coat
Let's kick things off with one of the most stylish and out of ordinary leather coats you can buy on the market. The defining feature of this men's fall jacket is definitely its faux fur lining, which provides comfort and softness while also looking stylish and fashionable. The color is also dark black for that classic all-black look, while the fur has a hint of brown to add a bit of flair and contrast in the mix.
The best thing about the looks of this coat is its ability to exude pure confidence. It draws attention towards itself without the use of any flashy colors or whacky design elements and offers a look that informs the people around you that you crafted this outfit and you have confidence that it looks good on you.
Francis B-3 Brown Leather Bomber Jacket
While we are on the topic of furry jackets that exude confidence, take a look at this brown bomber jacket. This is pretty much the opposite of the previous coat in terms of color and the atmosphere it radiates. With its fresh brown color and even fresh snow-white fur, this jacket takes the cake for being very refreshing to look at.
In terms of styling the jacket with other pieces of the garment, you can create whatever attire you want. You can go all-black or all white. Or, if you want to create a specific banger ensemble, pair this beauty with a white t-shirt, fresh blue jeans, and a pair of similarly colored leather boots.
Evan Hart Fur Brown Leather Jacket
Staying on the topic of brown leather jackets with ample amounts of fur, the Evan Hart brown jacket holds the crown for one of the unique shades of brown you can find on a jacket. The main color is an artistic blend of fresh and dark brown. The overall finish of this sheepskin leather jacket is very polished and shiny, which compliments the unique color very courteously.
The detachable collar is lined with actual sheep fur, which, combined with the sheepskin leather, gives this jacket everything that makes the shearling jackets so great. Add the unique color and fancy design in the mix, and you've got yourself a jacket that will not only look great but also protect you from much colder temperatures.
Sven Mocha Suede Bomber Jacket
Standing in the same general color category but with an entirely unique finish is this brown suede bomber jacket. One thing that anyone will notice immediately about this jacket is its distinct leather finish. This particular method of leather processing is known as Suede, and it is very famous for its diverse looks and soft surface, and you can find more jackets with similar finish by checking out our list of best suede jackets for men.
Made from real goatskin leather and processed in this exceptional way, this jacket is a must-own for anyone trying to build a wardrobe. This jacket is a perfect fit for anyone who wants a jacket that they can just put on, and be confident that it looks good.
In terms of styling this jacket, try to opt for lighter colors, preferably the whites and light greys for a contrasty look. Or you can go the entire opposite route to a black and darker look for a well-rounded outfit that blends nicely with the jacket.
Bouncer Biz Black Leather Bomber Jacket
Let's bring our attention back to a jacket that is the perfect example of the phrase, "If it isn't broke, don't fix it." This black fall leather jacket is proof of the timelessness of classic leather jackets. The simple black design with brass-colored accent zippers creates a clean and clutter-free look that is ideal for daily wear.
The inclusion of a detachable hood is an added bonus and allows you to have literally two distinct looks, with just one jacket, and the hood also provides protection against the weather. This hooded fall jacket can be worn with anything between plain t-shirts of any color and a casual checkered shirt with a tie. The only thing standing between you and infinite outfitting options is your imagination.
Hanklin Ma-1 Black Hooded Bomber Jacket
Are you not a big admirer of leather goods? Do you already own a leather jacket and just want to try something different? Or are you looking for a more vegan option? Then this is the perfect jacket for your needs.
It is based on the design of historical bomber jackets and created with the polyester material that gives it a very lightweight and breathable feel. It is a utility champion but isn't lacking in looks either. Rocking it with a pair of ankle jeans and sneakers will give you a very modern and trendy look that is exclusive to this design of men's fall jackets.
Daron Black Leather Blazer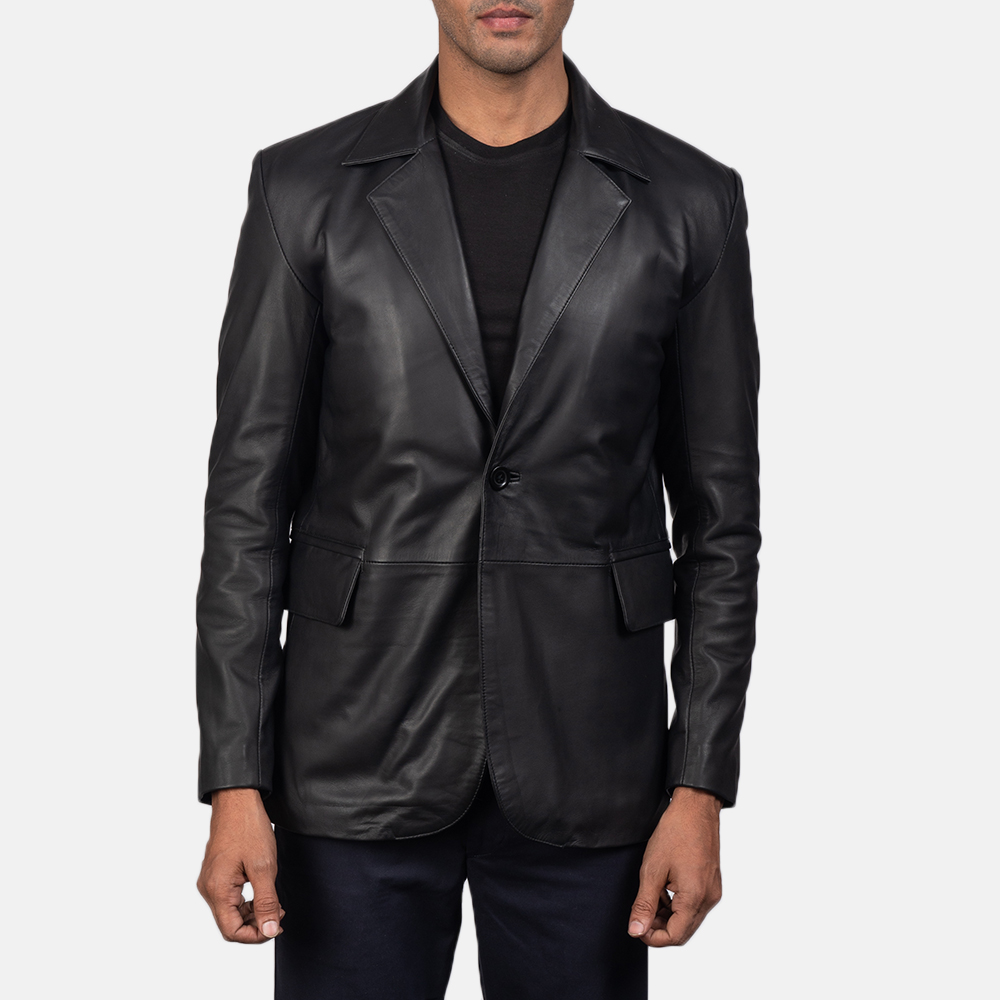 All the jackets we have talked about so far are mostly intended for average everyday wear. Sure, you can rock some of them like the fall bomber jacket in a business setting, just fine. But this one is specifically designed to be the jacket that you can wear to work every day without it looking out of place.
Its suit like design makes it the excellent casual fall jacket for men while also providing all the style and fashion benefits that come with a leather top. You can wear it with a turtle neck for an up-to-the-minute and fashionable look. Or, you can simply pair it with a dress shirt and a colorful tie for the formal office look. Its shiny black material also matches really well with formal dress shoes, so that's an added plus.
Deux Black Leather Duster
Let's get away from the world of waist long fall jackets for men, and talk about something a bit lengthier and unique, the Duster coat. This particular one is all black leather with a shiny semi-aniline finish. These kinds of coats used to be extremely popular in the 18th century. They later fell out of fashion and were replaced by long overcoats that businessmen used to wear. But a bit of a resurgence has been happening lately of these and many other types of leather coats.
They are still gaining popularity and are nowhere near the heights that they can be at. So, owning one will grant you a piece of men's fashion that is unique and one of a kind. Since, there are no preconceived notions about how it is meant to be worn, you are allowed to express yourself freely through these coats and experiment with entirely new styles every day. You can be an 1800s businessman on one day and a modern high fashion icon on the other.
Drake Khaki Wool Duffle Coat
If we compare the number of ways you can wear a coat, the wool duffle coat will take victory by a landslide. There are even more outfitting options with the fresh khaki color of this particular piece. But before we talk about the styling options, let's focus on the material a bit. It is made from real wool, thus providing excellent isolation against the cold and a snuggly feel that is difficult to get from other materials.
When it comes to pairing a wool coat, there are two main styles you can aim for. First is a more traditional approach with, checkered dress shirt and a wool sweater. Or, you can go super modern with long colorful t-shirts and fancy sneakers.
Are fall jackets still in fashion?
Mens leather jackets have had a lustrous career throughout human history. From the early caveman days when they were just animal skin draped on a body, to 1800 when the long leather coats became popular, to the world war two era when bomber jackets smashed all popularity charts, they have been a part of men's daily attire in one way or another. So, to say that they are still very much in fashion would not be wrong.
On the contrary, in fact. The overall popularity and appeal of the modern-day leather garment, and especially jackets, are rising every year. The influx of new designs, a resurrection of old ones, and interest from celebrities is providing fuel to the men's jacket industry, and if you are interested in buying one for yourself, you can check out our finest men's leather jackets.
Are leather jackets too expensive?
To a person who has never owned a fall leather jacket, or any other leather upper wear, the prices may seem a bit steep and a little too high. But to properly understand the pricing and the value of a jacket, we have to look at the full picture.
Cheap mass-produced options
If you go on the internet looking for the best fall jackets for men, you will find hundreds if not thousands of really cheap jackets on sale. But to buy them is an actual waste of money. They are made from cheap fake leather and are mass-produced in factories without a care in the world for quality. If you got one, it will barely last a month, maybe not even that.
Expensive luxury options
You don't want to waste your money, so you look in the other direction, at luxury clothing companies with high-quality real leather fall jackets. But their pricing perfectly fills the predetermined belief of being too steep and expensive for most people. The issue here is the brand itself. When you pay a thousand dollars for a leather jacket, 70-75% of it is the price you pay for the brand name and only $300 for the actual physical jacket you bought. The huge marketing feats and promotional material these companies do is paid by consumers like you.
A price-to-value balance
What you are supposed to do is to look in the middle, at companies like The Jacket Maker. We offer high-quality, geniune leather, finest fall jackets, at a price that is very competitive and makes sense for most folk. Our direct-to-customer model allows us to sell our products at reasonable margins and avoid overcharging our customers.
But our jackets can still seem a bit expensive. What you have to do is to look at it from the perspective of usage over time. A fall jacket is not something you wear for a month and then throw out. It is something that you can wear daily for years, heck, even decades if you want to. By looking at it from this angle, it will become very clear that our leather jackets are a good investment and something that you will benefit from, years on end. If you are interested in purchasing, or you just want to see the options available to you, you can take a look at some of our best affordable fall jackets for men.