A bomber leather jacket is more than just a piece of winter clothing. It is like a trusty old friend that you can rely on all year round and know that you are going to look good whenever you put it on, whatever you put it on.
There are many types and designs of jackets out there, but none of them has had a career as lustrous as the classic bomber jacket. From its initial popularity through military and fighter pilot use to its modern-day incarnations, the best mens bomber jackets have been a staple of wardrobes around the globe.
Anyone who is familiar with men's leather outerwear knows about the bomber jacket, and even someone not as familiar with leather tops would probably think about bomber jackets when asked about leather jackets. This historical significance and popularity amongst the masses is something unique only to the bomber leather jacket.
We at thejacketmaker offer high-end jackets with a price tag that makes sense to most people. Let's take a look at a few of our many best men's bomber jackets:
What To Expect In This Article?
Bouncer Biz Black Leather Bomber Jacket
The first on our list is the Bouncer Biz Black Leather Bomber Jacket. This jacket is a perfect example of a classic bomber design spiced up with a modern touch. The cowhide leather with its semi-aniline finish gives it a shiny look that really pops with the hooded design. When it comes to the best mens bomber jackets, this is one of the most sought-after designs. Its black color, combined with the overall design, gives it a very confident look.
In terms of styling this beauty, the possibilities are truly endless. A tried and tested all-black look is not something you'll regret going with, with this hooded bomber jacket. But this is only the beginning. If you want to, you can take the all-black look and flip it on its head by adding some color into the mix. Combining this jacket with leather boots is also something that will improve your overall outfit by a substantial amount.
Shane Green Leather Bomber Jacket
Leather jackets are often associated with shades of black and brown colors, but in reality, there are many other options available to you. Why not try some color with our Shane Green Leather Bomber Jacket. This sheepskin leather jacket is one of a kind and stands out among a crowd of black and brown jackets.
The color is not overly saturated and blends in pretty well with other colors, especially darker ones. The simplistic design of the green bomber jacket is ideal for creating a nice contrast with checkered and patterned shirts or pants. You can also go with an all-white this jacket to create a clean yet captivating look.
Moda Maroon Leather Bomber Jacket
If you want something a bit more stylish and fancier from the best mens bomber jackets, with a bold color, then look no further than our Moda Maroon Leather Bomber Jacket. The overall design of the jacket is fairly standard, but the cross pattern on both the front and the back makes it exceptional. The pattern makes the jacket visually interesting and adds a bit of a flair to your outfit.
This maroon bomber jacket brings out your personality incredibly well and allows you to represent yourself through your clothing. In terms of styling this jacket, the most famous outfit is a white t-shirt and blue jeans. But this is just an example of many possible arrangements, but lighter color shirts usually go better with this particular top.
Glen Street Brown Leather Bomber Jacket
Bomber jackets became this famous due to their military use, and if you want to rock that classic air force look, then Glen Street Brown Leather Bomber Jacket is the jacket for you. We created this jacket as an homage to the classic design that made the leather jacket a hit of this magnitude. The best men's bomber jackets of the past are the reason for the insane popularity of leather jackets today and when anyone thinks, "what is a bomber jacket?" the first design that comes to their mind is probably a military style jacket.
The dark brown chocolaty color of this cowhide jacket fits perfectly with the antique aesthetic and gives your outfit a vintage look that is hard to replicate with other designs. This jacket is very much meant to be the center point of your outfit, it's a statement that hides the amazing history of this iconic piece of mens outerwear.
Air Rolf Black Leather Bomber Jacket
Leather jackets are perfectly capable of fitting in a formal setting, and our Air Rolf Black Leather Bomber Jacket is an excellent example and proof of that. The minimalist plain design with pure black color makes it wearable both in a casual and a formal scenario. Need something fancy for a business meeting? Pair this with a dress shirt and a thin tie, with some business shoes, and you've got yourself an outfit that's stylish and formal at the same time.
It is the minimalistic nature and versatility of this jacket that makes it one of if not the best black bomber jacket we make. The only accent on it is the dark copper-colored zippers. They are there to break up the simplicity a tad bit and to prevent it from becoming a boring piece of black leather instead of the amazing bomber jacket that it is.
Zack Red Bomber Jacket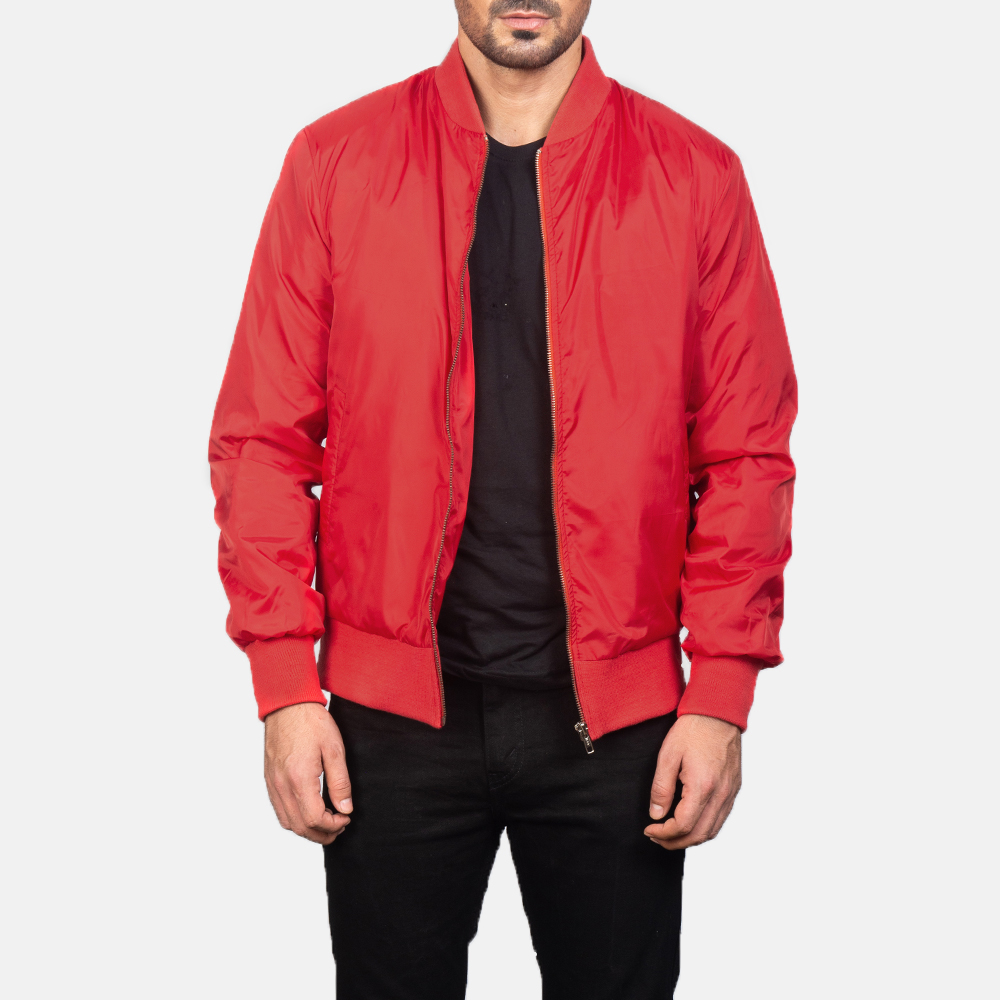 Feeling a bit bold and confident, then why not put on our Zack Red Bomber Jacket and show off your enthusiasm through your outfit. The striking red color is the highlight and the main selling point of this jacket. This look is a huge departure from traditional black and brown jackets.
The styling options might appear minimal at first thought, but a vibrant red jacket supports a whole slew of fashion options. You can try out wacky over the top ideas without it looking weird and step out of your comfort zone by experimenting with a lot of different color combinations. The red bomber jacket is the most attention-grabbing piece of outerwear a man can buy, and wearing one will certainly grab some eyes.
Avan Black & Maroon Leather Bomber Jacket
The Avan Black & Maroon Leather Bomber Jacket foregoes the traditional best men's bomber jackets' design and color. It introduces a style that is unique to this jacket only. The combination of maroon brown on the front and back with the black sleeves is attained by using two different types of leather for one jacket. The sleeves are made out of goatskin, and the torso is made of cowhide. Choosing the correct type of leather is important because you can only get this kind of shiny brown leather on cowhide.
In terms of pairing it with other outfits, a classic white t-shirt, dark pants, and leather boots work wonders, but this is not the only thing you can equip this jacket with. As any of the best men's bomber jackets should, this one is compatible with an entire plethora of colors and styles, so you can wear your awesome brown leather bomber jacket at any time with anything.
Columbus Blue Leather Bomber Jacket
Next up on our list is another colorful option, but not as vibrant and saturated as the red bomber jacket. This one is blue, a special kind of blue. One can say that it is blue but with a leathery twist. The color of our Columbus Blue Leather Bomber Jacket is a mystical dark yet still fresh feeling blue that pops out just the right amount. 
Just like the red one, the overall design of the jacket is clean and minimal as to not overdo the colorful and stylish nature of this top. As mentioned previously, the best men's bomber jackets go with almost anything, and it is true here as well. The hue of the jacket is more towards the colder side, so pairing it with lighter shades of blue, grey, and white is an excellent choice and will result in an outfit that looks clean, minimal, and modern.
Harrison Black Hybrid Varsity Jacket
As the name of our Harrison Black Hybrid Varsity Jacket suggests, it is made from a mix of wool for the torso and sheepskin leather for the sleeves. This overall design is extremely popular among the present-day crowd. There are many iterations of this design on the market, such as white wool sleeves and black wool body, full white jacket made out of polyester, or full black made with leather. These almost different genres are also a big factor in this designs' popularity.
But the key factor of our design is the novelty of having a wool body, with all of its benefits such as warmth, softness, and texture. Combining it with shiny leather sleeves is an added touch that does wonders on the outlook of the leather jacket. The shiny arms are complimented nicely with the big silver rivet buttons.
As far as styling this jacket goes, this is one of the easiest to pick with anything you are wearing. First of all, it is entirely black, so there is no color in the world that would look odd with this top. Secondly, the design is so famous that you have probably seen it being worn on anything from shorts to formal business attire. But there are some combinations, such as a white t-shirt and khaki pants that work exceptionally well.
Tomchi Tan Suede Leather Jacket
Suede jackets such as our Tomchi Tan Suede Leather Jacket are known for their incredibly soft and interesting texture. Suedes hold a unique and special place in the market for the best mens bomber jackets, and it is justified by its lightweight, soft texture and pliability.
This jacket is available in a soft milky brown color that is indicative of its softness. This fresh brown hue goes surprisingly well with fresh blue jeans and a pair of leather, preferably suede, shoes. If you would like to learn more about suede jackets and their uses, you can check out our article on the best suede jackets for men.
Danson Black Leather Bomber Jacket
With a few exceptions, so far, we've only looked at the best mens bomber jackets that are compatible with almost any outfit and have a simple plain design. So let's check out our Danson Black Leather Bomber Jacket, a jacket that stylish in every sense of the word.
To summarize this piece of mens fashion in a few sentences, this is not a jacket you wear on your outfit. This is something around which you design the whole outfit. It is very much the centerpiece of any ensemble you form with these flight bomber jackets.
Bomia Ma-1 Brown Leather Bomber Jacket
The Bomia Ma-1 Brown Leather Bomber Jacket is one of the simplest and clean designs with standard brown leather color. This fairly classic looking piece of mens outerwear is ideal for folks who want a traditional looking jacket without any fancy parts or extraordinary colors.
The brown on this jacket is fairly bright and goes nicely with denim and leather shoes. Combining it with a checkered shirt a style that you don't see very often, but it goes wonderfully with this jacket and delivers a look that is undeniably something only the best mens bomber jackets could provide.
Blain Black Hybrid Bomber Jacket
The Blain Black Hybrid Bomber Jacket is similar to our Harrison Black Hybrid Varsity Jacket, as both of these are a mixture of two different types of material. But in the case of Blain Black, the material difference is not between wool and leather. Rather it is among two different finishes of leather, namely suede and semi-aniline.
The leather used for this jacket is obtained from goatskin and sheepskin. The body of the jacket is finished in suede, which we talked about extensively in our description of the Tomchi Tan Suede Leather Jacket, and the arms are semi-aniline, giving them the shiny black look.
In terms of outfit combinations, it goes with anything from the best mens bomber jackets, particularly the black ones. But its dual finish design gives it a visual edge over a common, all shiny-black jacket and makes it look more visually appealing.
Aaron Brown Leather Bomber Jacket
We have already talked about a classic-looking bomber jacket, and the Aaron Brown Leather Bomber Jacket is in the same design category, kind of. The color of this one is very rustic and antique looking brown that juxtapose beautifully with modern clothing and fashion and creates a style that is not replicated by any other jacket. This top proves that the popularity of bomber jackets in the old days was due to a reason, and it looks gorgeous while doing so.
Vintage look aside, it is a solid pick for anyone who wants to create a tough-looking wardrobe or want to own a piece of clothing that looks manly and tough. The darker color gives an illusion of wear and history on the jacket surface, an effect that is going to get progressively more intricate and pronounced the more you use it.
Agent Shadow Black Leather Bomber Jacket
When browsing around for the best mens bomber jackets, there are countless options available to you. But if you want a blend of classic antique and modern styles, then look no further than our Agent Shadow Black Leather Bomber Jacket. The cool thing about this is its excellent blend of old military style and the modern touch.
It is made out of sheepskin leather and has a high neck design to keep you warm in the winter. The access of five front pockets not only looks good it also provides a functional element to the piece. Which is really important, especially when you are planning on utilizing it for daily use.
In terms of styling this jacket with other pieces of clothing, the sky is the limit. A few suggestions that we would make are an all-black look with black leather boots, an all-black look, but the shirt is checkered or has some kind of pattern on it, and last but certainly not least, a white turtle-neck with blue jeans. These are only three examples of many outfit combinations you can make with this piece of outerwear.
If you wish to learn about more jackets, then check out our list of best leather jackets for men.
FAQ's
How much should you pay for a men's bomber jacket?
When you search "best mens bomber jackets" on google, you will be greeted with primarily two kinds of options; the super cheap ones and the expensive luxury ones. The reason for the prevalence of these two options is quite simple. 
The cheap options are mass-produced and sold in thousands every day, so there are a lot of companies hogging the search results mainly due to the sheer number of them out there. But these jackets are made from cheap faux leather, sometimes not even that, and sold at prices as low as $30. Naturally, the quality of these is horrendous, and it would be a miracle if one of these lasts you for one season. They are a huge waste of money.
On the flip side of the coin, there are really high-end luxury jacket makers. The quality of their products would obviously be incredible, but the prices they sell their products are absurd and out of reach for many people. The reason for the high prices correlates with their presence on search results, advertisements, and marketing. Meaning, this ridiculous amount of money that is spent on marketing these products, comes from the pockets of consumers like you.
We here at the thejacketmaker stands at a special place where we deliver the best men's bomber jackets market. We offer equal or sometimes even better quality than the luxury brands while asking for a price that is much more reasonable and fair. We know you want a jacket that will last longer and look good while doing so, without burning your pockets. So, we are here to deliver on that need. 
If you would like to learn about other types of jackets, you can check out our articles on the best biker jackets for men and the best winter jackets for men.
How to rock a bomber jacket for men?
Bomber jackets are a fascinating part of fashion history. Their military tie-in makes them highly desirable. But how does one rock a distressed bomber jacket without it looking weird? To get an answer to this question, we must understand something first. Bomber jackets are not out of this world. Sure, they are stylish and highly sought after, but at the end of the day, they are still leather jackets. If you know how to rock a biker jacket, you will know how to integrate a navy blue bomber jacket into your wardrobe.
What can you wear with a bomber jacket for men?
The amazing thing about a bomber jacket is its versatility and adaptability. All leather jackets are universal in their own right, but the bomber jacket takes the whole concept of fitting in with every outfit to a whole new level. 
It's this universality of these jackets combined with their looks that make them such popular picks for men's wardrobes around the world. You can pick up an unusual color, for example, a tan bomber jacket or a silver bomber jacket, and still have the ability to pair them with practically anything in your existing wardrobe. 
There are, however, a few things that fit exceptionally well with these jackets, like a pair of leather shoes. So, let's discuss a bit about the general styling of a bomber jacket.
How to style a bomber jacket?
As mentioned previously, the best men's bomber jackets are compatible with a significant portion of men's fashion. But there are certain articles of clothing and techniques that can elevate your fashion game to the next level.
As stated earlier, a decent pair of leather shoes, preferably in matching color to your jacket, is a monumental improvement on any outfit. If your jacket and shoes look good together, you'll look good even if the rest of the outfit doesn't fit or particularly look good in a certain scenario.
The other advice we will give is when you are scouring the market for the best mens bomber jackets, don't just opt for black and brown. Look for other colors, like tan, red, blue or even white bomber jacket. Owning a colorful jacket will add a flair and personality to your wardrobe, which is difficult to get with plain blacks.